"Oh I do like to be beside the seaside, oh I do like to be beside the sea!"
The weather outside may be frightful, but you can warm yourself up with summer memories all year round by giving your home the seaside look. You don't have to limit this look to your bathroom either – there are some great pieces out there for all rooms in your house, and to suit all budgets.
How about some of these…..
This beach hut cushion from The Range is a steal at £7.99. It is 40cm x 30cm and embroidered with this cheerful and charming design. Isn't it fab?
You can buy it at https://www.therange.co.uk/cushions-and-throws/cushions/beach-huts-filled-cushion
If subtle touches like cushions just aren't going to cut the mustard, then how about a full wall of beach huts? This wallpaper from RedCandy is £18 per roll, and is simply stunning
You can have a look at http://www.redcandy.co.uk/beside-the-seaside-wallpaper
Pretty as well as practical is this set of two boat themed book cases from Wayfair. Standing at 117cm and 77cm respectively, these will add the seaside theme to your room without overwhelming it. These would look ace in the bedroom, bathroom, or study.
You can find out more info at https://www.wayfair.co.uk/Natural-Wood-Set-of-2-Boat-Storage-70-423-PACH7258.html 
What says seaside more than a deckchair? You can get loads of deckchairs in tons of different designs right now, but for a proper seaside theme, this knots print deckchair from Not on the High Street is wonderful. Priced at £69.00
Learn more at http://www.notonthehighstreet.com/morebydesign/product/knots-deckchair 
This beach storage hut from John Lewis is very cute and would look fab as part of a collection in your bathroom for holding those essential but unsightly bathroom thingymebobs. It stands 15cm tall, so can fit neatly on a windowsill or shelf. Priced at a palatable £15.00
More info at http://www.johnlewis.com/john-lewis-beach-hut-storage-box/p2465913?colour=Nautical%20Blue
For beach hut expression to finish off a more subtle decor, this bathroom set from Dunelm really does the job. Items priced individually from £1.99 to suit you and your room. What do you think of these?
Check out their full beach hut bathroom range at http://www.dunelm.com/product/beach-hut-bathroom-collection-b01086?searchTerm=beach
There are a whole host of seaside and beach themed items for sale over on Etsy, but I especially like this shell wreath. Could you imagine this on hung up in your office to remind you of that relaxing beach holiday? It's priced at £29.50 plus shipping.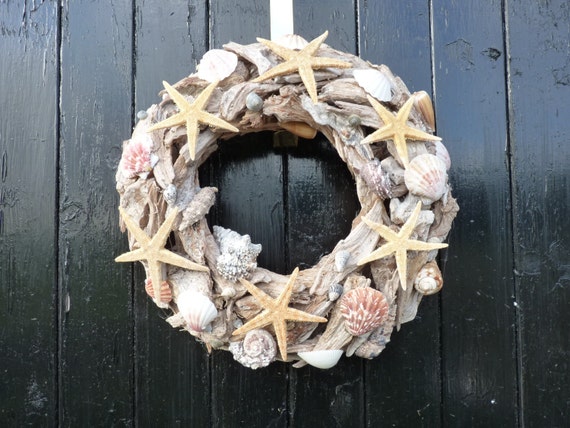 Find out more at https://www.etsy.com/uk/listing/269707660/summer-wreath-beach-wreath-shell-wreath?ref=shop_home_active_6
Giving your home the seaside or beach look is simple. Here are my top tips.
1) Keep it plain. Use a plain backdrop of light blue, or sand colours, and then pick specific beach-themed interior items for effect.
2) Beach theme is great for applying to walls, so don't worry too much about having to have beach style furniture which takes up room
3) Collect a few items next time you're at the beach if you can. While you shouldn't take too many shells or pebbles as this can cause coastal erosion, you could collect some driftwood and seaweed to enhance your theme. Just make sure you dry it out before you use it indoors.