Stags are everywhere at the moment! Stags can give a real country cottage feel to your home. You probably want to stay away from finding a real one, and mounting it on your wall. That sort of thing is not clever. Instead there are a whole range of interior products which scream English country life without having to get violent. Mind you, I have seen a tussle in John Lewis over a duvet set before, but that's another story for another day.
While the stag theme may not go down too well in your London penthouse crashpad, it's certainly something to give a more genteel feel to your country pile. Or even your suburban semi.
Here's my pick of the best stag products.
1) Bergen stag head cushion from The Range – £12.99
2) Stag bookends from Homescapes Online – £39.99
3) Stag blackboard wall sticker from Red Candy – £36.00
4) Highland Stags bedding set from Debenhams – from £45.00
5) Stags and Hinds coaster set from Kings and Queens – £11.52
6) Stag rug 80 x 150cm, from Argos – £39.99
7) Stag table lamp from NotOnTheHighStreet – £44.00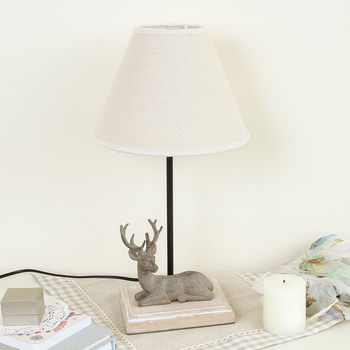 8) Arthouse stag cream wallpaper from Wilko – £6.95 per roll